Dzisiaj przeskoczymy przez Dunaj i rozejrzymy się po alei Andrássy'ego. Mam nadzieję, że będzie to zachęta do spaceru tą aleją przy najbliższej nadarzającej się okazji. Nadmienię, że Andrássy út wpisana jest na listę dziedzictwa światowego UNESCO.
Aleja Andrássy'ego łączy śródmieście Pesztu z placem Bohaterów, o którym innym razem.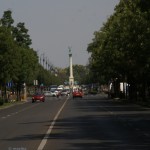 Jak widać jest to szeroka aleja, która po obu stronach obsadzona jest okazałymi drzewami. Kolumna w perspektywie alei to fragment pomnika Tysiąclecia, stojącego na placu Bohaterów, po węgiersku: Hösök téren. Aby być dokładnym muszę napisać, że aleja nie jest na swym całym przebiegu tak szeroka i zielona.
Aleję wytyczono w drugiej połowie XIX wieku; orędownikiem jej utworzenia był premier węgierskiego rządu, później minister SZ Austro-Węgier Gyula Andrássy. Do zabudowy alei zostali zaangażowani najlepsi ówcześni węgierscy architekci, między innymi Miklós Ybl, który – jeśli dobrze poszperać w dziejach peszteńskiej architektury – jest pewnie autorem połowy śródmieścia (Belváros).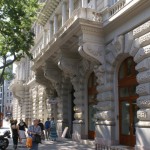 Większość zabudowy alei powstała w stylu eklektycznym, który swe przepiękne oblicze pokazuje nam już u początku alei.
Rustykalne boniowania, kunsztowne wsporniki balkonów, kolumny robią wrażenie i przyciągają wzrok, choć jak widać – głównie turysty.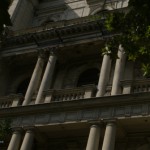 Frontowe fasady wielkich kamienic pozwalają na swobodną pracę wyobraźni: jakże przestronne muszą być wnętrza mające tak imponujące balkony!
Na pierwszym odcinku alei (od alei Bajcsy-Zsilinskyego do placu Oktogon) natrafimy na szczytowe osiągnięcie w twórczości Miklósa Ybla – siedzibę Opery Narodowej.
Już ten niewielki fragment pokazuje urok tego gmachu: delikatne zdobienia gzymsów, ozdobne bariery, kolumny w elewacji frontowej. Rzeźby wieńczące balustradę drugiego piętra przedstawiają największych kompozytorów w dziejach opery. Druga od prawej strony (widać ją na zdjęciu) to wizerunek Stanisława Moniuszki. Na zdjęciu nie widać za to rzeźb muz, związanych z teatrem. Jedną z nich zasłania stylowa latarnia, umiejscowiona przed efektownym podjazdem do opery.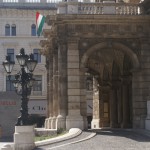 Węgrzy nazywają ten gmach Operaház – Dom Opery. Już tylko ten podjazd mógłby, moim zdaniem, uzasadniać nazwę Opera palota – Pałac Opery.
Oddalając się aleją Andrássy'ego od Śródmieścia, około 200 metrów za operą napotkamy dwa zaciszne place po jej obu stronach: trochę zieleni, ławeczki i już dwa kroki w głąb tych placów spokojniej, można usiąść, podumać, poczytać.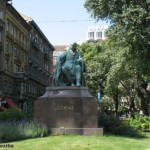 Plac po lewej to Jókai Mór tér. Mór Jókai był wybitnym pisarzem, a przez długi czas swego życia – również posłem do parlamentu ck. monarchii.
Czy pod pomnikiem wielkiego pisarza wypada nie przeczytać choćby strony jakiejkolwiek książki?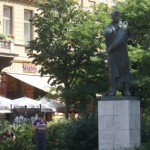 Podobne pytanie można sobie postawić po drugiej stronie alei. Tam bowiem z cokołu do lektury zachęca Endre Ady, poeta przełomu XIX i XX wieku, któremu literatura węgierska zawdzięcza wiele, ale który dzisiaj, w dobie dość wyraźnie podnoszącego głowę węgierskiego nacjonalizmu, partii Jobbik i bojówek Magyar gárda, popularny pewnie nie jest.
Dla porządku podam, że plac ten nie nazywa się Ady Endre tér, a Liszt Ferenc tér. Zatem nie poeta, a muzyk i kompozytor jest tu gospodarzem. Ma to związek ze znajdującą się na drugim końcu placu Akademią Muzyczną jego imienia.
Z obu placów już tylko krok do Oktogonu czyli ośmiokątnego placu, znajdującego się na skrzyżowaniu alei Andrássy'ego z Wielkim Bulwarem, który na tym odcinku nazywa się Teréz körút. Na Oktogonie stoi charakterystyczny zegar.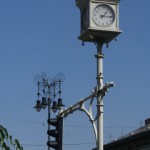 Podobnie jak w innych krajach (Polsce) nazewnictwo ulic na Węgrzech zmieniało się wraz z historią. Ciekawych obserwacji w tym zakresie dostarcza lektura przewodników turystycznych sprzed kilkudziesięciu lat.
Aleja, której częścią przespacerowaliśmy się dzisiaj, pierwotnie nazywała się Sugár czyli Promień. Później nazwę zmieniono na odwołującą się do jej orędownika – Andrássy út, po drugiej wojnie światowej, a jakże – Sztálin út, a później – Népköztársaság út czyli Republiki Ludowej. W 1990 roku powróciła do obecnej nazwy.
Pierwowzór powyższego tekstu powstał kilka lat temu, jako część cyklu popularyzującego Budapeszt na innym, zupełnie nie tematycznym forum.